Earlier this month acclaimed travel website, Time Out announced the return of its popular global survey, The Time Out Index – a huge, anonymous survey taken by urbanites across the world. The annual Time Out Index asks these city-dwellers about their native lives, what are they feeling, thinking, eating, drinking, and doing for fun? And which are the best cities for living a full and vibrant life.

In this year's Time Out Index, the platform decided to drill down a bit and go even more local, asking 27,000-plus city-dwellers which specific streets they think are the coolest too. Once again, Time Out consulted its global network of editors and experts to weigh up the candidates and make the call on their city's number one hotspot.

Smith Street in Melbourne, Australia was dubbed the number one coolest street in the world with Passeig de Sant Joan in Barcelona coming in second and South Bank in London in third.

Read More | Good news for tourism as the US lowers South Africa's travel risk rating

While South Africa may not have made the top 10, two local streets did make the final cut – in 12th place is Jozi's 7th Street, in Melville and in 22nd place is Main Road in Kalk Bay, Cape Town. Take a look at what Time Out (and some locals) had to say about 7th Street and Main Road below and view the full list of The Coolest Streets in the World, right here.
7th Street, Melville, Johannesburg
A typical experience on 7th Street in Johannesburg's Melville neighbourhood looks like this: cocktail in hand, a whiff of quality food in the air, the hum of casual diners and street drinkers chatting around you. There's always a discernible buzz. And that's probably because pretty much the entire street is filled with restaurants, pubs and clubs – making it the ideal place for a night on the town. (Though, this being fun-loving Joburg, you'll find this place is equally busy at breakfast, lunch and basically every other time of day too.)

EAT The exquisite seafood at Xai Xai, a popular shebeen named after the city in Mozambique.
DO Flaunt your moves at Liquid Blue, a club and cocktail bar that fills up quickly and stays that way till late.
BUY Amateur artists line the pavement here, selling all sorts of eye-popping artworks. Why not take one home with you? Thando Mpembe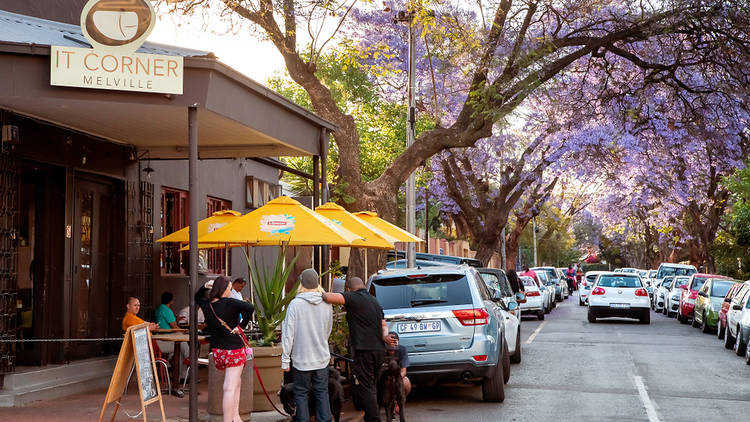 Main Road, Kalk Bay, Cape Town
The main road in suburban Kalk Bay is just magical. Head past all the historic sea-facing homes, just beyond the train station, and you'll find the dream spot for an afternoon mooch in the sun. On a warm day, it's habitual to start with a swim at Dalebrook tidal pool, where locals and visitors lay out towels on the rocks. Just as good is a picnic overlooking the water, or if the hunger pangs properly kick in, there are enough solid restaurants lining the road to keep you happy for days. Our top tip? Pop down midweek to have more of the place to yourself.

DO The Brass Bell may be better known as a restaurant with excellent seafood. But it also has its own public tidal pool on the premises – go ahead and dive right in.
EAT For food that's literally cheap as chips, head to Kalky's for the local twist on fish 'n' chips.
DRINK Grab a coffee and cake at Olympia Café – for the caffeine kick, but also for the cosy atmosphere inside. Yazeed Kamaldien