Source | Rotten Tomatoes
2020 is looking to be a year filled fantastic releases. There are long-awaited follow-ups such as to Bad Boys and Coming to America, and Tom Cruise is back to race across the sky in Top Gun: Maverick. Wonder Woman also returns in 'Wonder Woman 1984', and Scarlett Johansson's 'Black Widow' will kick off Marvel's Phase Four.
But it's not all sequels, reboots and 'Marvel' – if you're a musical fan, you're in for a treat, with Lin-Manuel Miranda's 'In the Heights' coming to the big screen, courtesy of Crazy Rich Asians director Jon M. Chu. Plus, you can also look forward to a slew of top-notch thrillers, horror films, action-adventures, and more.
Take a look at 50 of the most highly anticipated films of the year according to Rotten Tomatoes below.
Words | RT Staff
JANUARY
Bad Boys for Life (2020)  77%
Directed by: Adil El Arbi, Bilall Fallah
Starring: Will Smith, Martin Lawrence
Opening on: January 17, 2020
Bad Boys and Bad Boys II may both be Rotten, but they live in the hearts of many action fans as exemplary buddy-cop flicks, and both have Audience Scores of 78%. While original director Michael Bay is not coming back for Bad Boys for Life, producer Jerry Bruckheimer is overseeing the film, and we have confidence that directors Adil El Arbi and Bilall Fallah of Black and Gangsta will match his signature style and pace.
---
Weathering with You (2020)  90%
Directed by: Makoto Shinkai
Starring: Kotaro Daigo, Nana Mori, Tsubasa Honda, Shun Oguri, Sakura Kiryu
Opening on: January 17, 2020
The latest animated adventure from Makoto Shinkai, the acclaimed director of Your Name, centres on a pair of teens, one of whom can control the weather, who meet and form a bond with each other, before one of them reveals a secret that will change both of them forever.
---
The Gentlemen (2020)  73%
Directed by: Guy Ritchie
Starring: Matthew McConaughey, Charlie Hunnam, Michelle Dockery, Hugh Grant, Jeremy Strong, Colin Farrell, Henry Golding
Opening on: January 24, 2020
After a bit of a departure with 2019's live-action Aladdin remake, Guy Ritchie returns to his roots with this British gangster tale about an American ex-pat (Matthew McConaughey) with a weed empire in London whose imminent retirement from the business spawns a criminal free-for-all for his territory. Fans of Ritchie's early work are excited to see him at the helm of another crime caper, and it's hard to beat the sight of a slimy-looking Hugh Grant playing against type.
---
Gretel & Hansel (2020)  61%
Directed by: Oz Perkins
Starring: Sophia Lillis, Sammy Leakey, Alice Krige
Opening on: January 31, 2020
From the director who previously brought us The Blackcoat's Daughter and I Am the Pretty Thing That Lives in the House comes a dark new take on the classic fairy tale about a brother and sister who fall prey to a cannibalistic witch that entices them with tasty treats. Sophia Lillis (It, Sharp Objects) and Sammy Leakey star as the titular duo, who embarks on a desperate search for food, only to encounter something far more evil than we've seen in any previous iteration of the story.
---
FEBRUARY
Birds of Prey (And the Fantabulous Emancipation of One Harley Quinn) (2020)  80%
Directed by: Cathy Yan
Starring: Margot Robbie, Jurnee Smollett-Ball, Mary Elizabeth Winstead
Opening on: February 7, 2020
We last saw Margot Robbie's wily Harley Quinn get in all kinds of trouble in Suicide Squad. What happens when she joins Birds of Prey, DC's all-ladies team of adventurers? Sheer. Unadulterated. Mayhem. Along for the ride will be Jurnee Smollett-Bell and Mary Elizabeth Winstead, who was cast as Black Canary and Huntress, respectively, in September, and Rosie Perez, playing Renee Montoya. They will face off against Ewan McGregor as the Black Mask.
---
The Lodge (2020)  75%
Directed by: Severin Fiala, Veronika Franz
Starring: Riley Keough, Jaeden Martell, Lia McHugh, Richard Armitage
Opening on: February 7, 2020
Severin Fiala and Veronika Franz, the duo who brought us 2014's chilling psychological thriller Goodnight Mommy, return with another striking horror film. Riley Keough plays Grace, a young woman who is left alone at a winter lodge with her boyfriend's two children — but not everything, or everyone, is quite what they seem, and as secrets are revealed and tensions rise, there may be more than just personal history to worry about.
---
The Photograph (2020)
Directed by: Stella Meghie
Starring: LaKeith Stanfield, Issa Rae, Chelsea Peretti, Courtney B. Vance, Kelvin Harrison Jr., Lil Rel Howery, Rob Morgan
Opening on: February 14, 2020
LaKeith Stanfield and Issa Rae star in this romantic drama about a woman named Mae whose mother dies and leaves behind a photograph that reveals secrets about her past. As Mae delves deeper into her mother's life, she begins to fall for a journalist assigned to write a story about her.
---
Sonic the Hedgehog (2020)
Directed by: Jeff Fowler
Starring: James Marsden, Ben Schwartz, Jim Carrey, Tika Sumpter, Neal McDonough
Opening on: February 14, 2020
The first trailer for this adaptation of the classic video game famously drew the ire of Sonic fans around the world, prompting the studio to announce that it would be updating the look of the character. This led to a push back from its original 2019 release date – but on the plus side, those same fans were all about Jim Carrey as the villain Dr Robotnik. An updated trailer featuring a redesigned Sonic that was released in November of 2019 was met with wholehearted approval from fans, so here's hoping the rest of the film is up to snuff.
---
Fantasy Island (2020)
Directed by: Jeff Wadlow
Starring: Lucy Hale, Maggie Q, Portia Doubleday, Charlotte McKinney, Michael Peña, Michael Rooker
Opening on: February 14, 2020
Moviegoers of a certain age may remember the popular TV drama Fantasy Island, in which visitors to the titular vacation spot would be granted a chance to live out their wildest fantasies for a price. Blumhouse has decided to twist the concept into one of its horror offerings to bring it to the big screen, as this adaptation centres on a group of guests whose fantasies spiral out of control dangerously, and they must figure out how to survive.
---
The Invisible Man (2020)
Directed by: Leigh Whannell
Starring: Elisabeth Moss, Aldis Hodge, Oliver Jackson-Cohen, Storm Reid
Opening on: February 28, 2020
After 2017's The Mummy failed to launch Universal's cinematic universe of classic monsters, they handed the reins of The Invisible Man over to their horror partners at Blumhouse for a modern, updated standalone feature. Elisabeth Moss stars as the former lover of an abusive sociopath who has committed suicide — or has he? Maybe that's him breathing over her shoulder and lighting things on fire in her house.
---
MARCH
Bloodshot (2020)
Directed by: Dave Wilson
Starring: Vin Diesel, Eiza Gonzalez, Sam Heughan
Opening on: March 13, 2020
Who is Bloodshot? If the Valiant Comics assassin's relaunch series was any indication, that is the big question. An unstoppable super-soldier powered by nanomachines, Bloodshot's past is a mystery to him, and he's on a mission to find out who he is and who – or what – is controlling him. With Vin Diesel as the titular character, expect a heavy side of testosterone with this slice of sci-fi.
---
A Quiet Place Part II (2020)
Directed by: John Krasinski
Starring: Emily Blunt, Noah Jupe, Millicent Simmonds, Cillian Murphy, Djimon Hounsou
Opening on: March 20, 2020
Director John Krasinski returns to helm this sequel, which he also wrote, starring his real-life wife Emily Blunt, as it follows up with the Abbott family after the events of the first film. Judging from the first trailer, we'll also get some flashbacks to the beginning of the… invasion? Infestation? Whatever you want to call it, it looks like Krasinski has done a bang-up job ratcheting up the tension, and audiences should be in for another great ride.
---
Mulan (2020)
Directed by: Niki Caro
Starring: Yifei Liu, Jet Li, Donnie Yen, Gong Li
Opening on: March 27, 2020
Following Disney's live-action remake trend comes Mulan, directed by Niki Caro of Whale Rider and North Country fame. Featuring Chinese star Liu Yifei as the titular character and a host of other Chinese legends like Donnie Yen, Gong Li, and Jet Li, this one is poised to conquer the global box office and – if it taps into the animated original's magic – our hearts.
---
APRIL
The Lovebirds (2020)
Directed by: Michael Showalter
Starring: Kumail Nanjiani, Issa Rae, Anna Camp
Opening on: April 3, 2020
Kumail Nanjiani and Issa Rae star in this romantic comedy about a couple on the verge of a break-up who becomes embroiled in a murder mystery and must work together to clear their name. Veteran comedy writer Michael Showalter, who previously directed Nanjiani in the sleeper hit The Big Sick, is back in the director's chair for this one, with Pitch Perfect's Anna Camp in a supporting role.
---
The New Mutants (2020)
Directed by: Josh Boone
Starring: Anya Taylor-Joy, Maisie Williams, Charlie Heaton, Alice Braga
Opening on: April 3, 2020
The Fault in Our Stars director Josh Boone collects some of today's hottest young stars — including Split's Anya Taylor-Joy, Game of Thrones' Maisie Williams, and Stranger Things' Charlie Heaton — to play next-generation X-Men from Marvel's comic book series of the same name. But the New Mutants' dark path is riddled with horrors as they discover their abilities while imprisoned in a secret facility.
---
No Time To Die (2020)
Directed by: Cary Fukunaga
Starring: Daniel Craig, Ralph Fiennes, Rami Malek, Naomie Harris, Lea Seydoux, Ben Whishaw, Rory Kinnear, Jeffrey Wright, Ana de Armas, Lashana Lynch
Opening on: April 8, 2020
True Detective director Cary Fukunaga takes the reins for the 25th James Bond film, with Daniel Craig returning for his fifth and (presumably) final turn as 007. He's joined by series regulars Ralph Fiennes, Naomie Harris, Rory Kinnear, and Ben Whishaw, as well as returning characters played by Lea Seydoux and Jeffrey Wright. Recent Best Actor-winner Rami Malek is reported to play the villain, while it's presumed Captain Marvel's Lashana Lynch will play a newer 007 who may have to relinquish her famous code number back to Bond when he comes out of retirement.
---
Antlers (2020)
Directed by: Scott Cooper
Starring: Keri Russell, Jesse Plemons, Jeremy T. Thomas, Graham Greene
Opening on: April 17, 2020
Keri Russell and Jesse Plemons star in this supernatural thriller about a small-town teacher and her sheriff brother who find themselves in a waking nightmare when they discover one of her students is harbouring a terrifying secret in his attic.
---
Promising Young Woman (2020)  97%
Directed by: Emerald Fennell
Starring: Carey Mulligan, Bo Burnham, Laverne Cox, Alison Brie, Christopher Mintz-Plasse, Adam Brody, Connie Britton, Molly Shannon
Opening on: April 17, 2020
Killing Eve showrunner Emerald Fennell makes her feature writing and directing debut with this thriller starring Carey Mulligan as a vigilante who pretends to be drunk at bars, luring men who claim they want to help her, and then confronts them when their advances inevitably turn sexual.
---
Antebellum (2020)
Directed by: Gerard Bush, Christopher Renz
Starring: Janelle Monáe, Jena Malone, Jack Huston, Kiersey Clemons, Eric Lange
Opening on: April 24, 2020
This psychological mystery's first teaser trailer didn't give a whole lot away, which is probably a good thing. We do know from the film's synopsis that it centres on a successful writer played by Janell Monáe who becomes trapped in some sort of an alternate reality — possibly one set in the slavery-era American South — and must figure out a way to break free. It's definitely emitting some Get Out and Us vibes, which isn't too surprising, considering the film has played up the fact that "the producer of" those films is behind this one as well.
---
MAY
Black Widow (2020)
Directed by: Cate Shortland
Starring: Scarlett Johansson, Florence Pugh, David Harbour, Rachel Weisz
Opening on: May 1, 2020
The first Marvel property to kick off it's Phase 4 will be this prequel focusing on Scarlett Johansson's Natasha Romanoff. We don't quite know what the story surrounding the character will be, but we do know that she'll be joined by David Harbour, Rachel Weisz, and rising star Florence Pugh, among others. And who knows? Maybe Jeremy Renner's Hawkeye will make an appearance.
---
The Personal History of David Copperfield (2020)  95%
Directed by: Armando Iannucci
Starring: Dev Patel, Peter Capaldi, Aneurin Barnard, Ben Whishaw, Tilda Swinton, Hugh Laurie, Gwendoline Christie, Benedict Wong
Opening on: May 8, 2020
Dev Patel stars in a reimagining of the classic Charles Dickens novel, told through a comedic lens by Armando Iannucci, the man behind such scathing satires as In the Loop, The Death of Stalin, and HBO's Veep. The production boasts an impressive cast that includes Tilda Swinton, Hugh Laurie, Ben Whishaw, and Peter Capaldi.
---
The Woman in the Window (2020)
Directed by: Joe Wright
Starring: Amy Adams, Jennifer Jason Leigh, Gary Oldman, Julianne Moore, Anthony Mackie, Brian Tyree Henry
Opening on: May 15, 2020
In Joe Wright's adaptation of the novel of the same name that takes the premise of Rear Window to new places, Amy Adams stars as child psychologist Anna Fox, an agoraphobic woman who develops a friendship with a neighbour who lives in the building across the street (played by Julianne Moore), only to witness her friend being murdered by her husband. Except, maybe that's not actually what happened, and maybe Anna's medication is playing tricks on her mind.
---
Artemis Fowl (2020)
Directed by: Kenneth Branagh
Starring: Judi Dench, Josh Gad
Opening on: May 29, 2019
Director Kenneth Branagh and stars Judi Dench and Josh Gad, who all worked together on last year's Murder on the Orient Express, reunite for this adaptation of the popular fantasy book series that centres on a young criminal mastermind who kidnaps a fairy in hopes of ransoming her to an evil pixie in exchange for his father.
---
JUNE
Wonder Woman 1984 (2020)
Directed by: Patty Jenkins
Starring: Gal Gadot, Chris Pine, Kristen Wiig
Opening on: June 5, 2020
As villain Cheetah, Bridemaids' Kristen Wiig climbs aboard the Wonder Woman sequel, which sees Gal Gadot returning to her Amazon-princess role that catapulted the first film to a $412.5 million box office, a Certified Fresh 92% Tomatometer score, and the No. 2 spot in our list of the 64 Best Superhero Movies of All Time. The action is set during the Cold War in the '80s and finds Chris Pine reappearing as Wonder Woman's love interest Steve Trevor, despite his apparent death in the first film.
---
Candyman (2020)
Directed by: Nia DaCosta
Starring: Yahya Abdul-Mateen II, Tony Todd, Teyonah Parris
Opening on: June 12, 2020
Longtime fan and contemporary horror maestro Jordan Peele is producing this sequel to — not a remake of — the classic 1992 horror film about the murdered son of a slave whose ghost haunts the Chicago neighbourhood where the Cabrini Green housing projects once stood. We don't know yet what direction the new story will take, but we know that Nia DaCosta (Little Woods) is directing, and Yahya Abdul-Mateen II (Aquaman) and Teyonah Parris (If Beale Street Could Talk) will star, with Tony Todd reprising his role as the iconic title character.
---
In the Heights (2020)
Directed by: Jon M. Chu
Starring: Anthony Ramos, Leslie Grace, Corey Hawkins, Jimmy Smits, Stephanie Beatriz, Dascha Polanco
Opening on: June 26, 2020
Crazy Rich Asians director Jon M. Chu adapts Lin-Manuel Miranda's breakout musical, In the Heights. The show, which kicked off the Hamilton creator's career, won four Tony Awards in 2008, including Best Musical and Best Original Score. Chu demonstrated real skill with spectacle in Crazy Rich Asians, and the new movie shares similar themes of reclaiming one's heritage – it follows the stories of several characters in New York's heavily Latino neighbourhood, Washington Heights, over three days.
---
Top Gun: Maverick (2020)
Directed by: Joseph Kosinski
Starring: Tom Cruise, Jennifer Connelly, Jon Hamm, Val Kilmer, Jay Ellis, Miles Teller, Monica Barbaro
Opening on: June 26, 2020
Great balls of fire, we're getting a Top Gun sequel after 31 years! Not a whole lot is known about the movie, except that the filmmakers have recruited a cast of some of the most in-demand young actors in Hollywood – including Miles Teller, who will play Goose's son – and that Val Kilmer is officially back as Iceman. And as the trailer released during Comic-Con promises, it will again feature Tom Cruise riding motorcycles, playing volleyball, and flying jets like a madman.
---
JULY
Free Guy (2020)
Directed by: Shawn Levy
Starring: Ryan Reynolds, Taika Waititi, Jody Comer, Joe Keery, Lel Rel Howery
Opening on: July 3, 2020
Ryan Reynolds brings his sarcastic wit and boyishly good-looking everyman charm to this self-referential, special effects-driven comedy. He stars as Guy, a nondescript bank teller non-player character (NPC) in a violent, open-world video game who suddenly becomes self-aware and decides to take his destiny into his own hands. Expect a lot of ironic, self-referential humour and over-the-top action shenanigans, which, when Ryan Reynolds is involved, is essentially its own genre these days.
---
The French Dispatch (2020)
Directed by: Wes Anderson
Starring: Timothée Chalamet, Frances McDormand, Tilda Swinton, Léa Seydoux, Benicio Del Toro, Saoirse Ronan, Bill Murray, Jeffrey Wright, Owen Wilson
Opening on: July 24, 2020
Initially reported to be a musical, Wes Anderson's next film will be a drama that brings to life a handful of stories from a magazine created by an American living in a fictional city in France. The film's press release calls it a "love letter to journalists," and it brings together several regular collaborators in a massive, star-studded cast.
---
Ghostbusters: Afterlife (2020)
Directed by: Jason Reitman
Starring: Carrie Coon, Finn Wolfhard, Mckenna Grace, Paul Rudd
Opening on: July 10, 2020
Jason Reitman will direct a sequel to the original Ghostbusters franchise, unrelated to the all-female reboot directed by Paul Feig in 2016. We still don't know much about what the story will be, but as casting news trickled in, we did learn that Finn Wolfhard and Mckenna Grace will play a brother and sister, with Carrie Coon as their single mother, and Paul Rudd is in the film in an undisclosed role. We're still waiting on word if, as Sigourney Weaver stated in an interview, the remaining original Ghostbusters will appear in the film.
---
Tenet (2020)
Directed by: Christopher Nolan
Starring: John David Washington, Elizabeth Debicki, Aaron Taylor-Johnson, Robert Pattinson, Kenneth Branagh, Michael Caine, Himesh Patel
Opening on: July 17, 2020
We knew for a while that Christopher Nolan's next film would be called Tenet, and we knew who was on board to star in it, but outside the fact that the story would have something to do with international espionage, we knew little else. We finally got the first trailer for it in mid-December, and though it's cryptic enough that we still kind of don't know what's going on, we do know that John David Washington will play some sort of agent who is able to experience time both forwards and backwards, sometimes simultaneously…? We think…?
---
Jungle Cruise (2020)
Director: Jaume Collet-Serra
Starring: Dwayne Johnson, Emily Blunt, Édgar Ramírez, Jack Whitehall, Jesse Plemons, Paul Giamatti
Opening on: July 24, 2020
Following the path that Pirates of the Caribbean charted so successfully, this new film (franchise?) is based on the Disney theme park attraction of the same name. Dwayne Johnson and Emily Blunt star, respectively, as a riverboat captain and a scientist on a hunt for a magical cure in this Depression-era action-adventure. Comedian Jack Whitehall also joins in the fun, playing Blunt's character's brother. Collet-Serra has had a string of action-thriller hits working with Liam Neeson (Commuter, Non-Stop, Unknown), so there's a chance this one could be slightly darker than anticipated. The movie was originally slated to premiere in 2019 but was bumped in fall 2018.
---
Morbius (2020)
Directed by: Daniel Espinosa
Starring: Jared Leto, Jared Harris, Adria Arjona, Matt Smith, Tyrese Gibson
Opening on: July 31, 2020
The first true test of Sony's break with Marvel over Spider-Man and the various characters related to him will come in the form of Morbius, based on the Spidey villain who suffers from a rare blood disease and inadvertently turns himself into a vampire in a misguided attempt to cure himself. Jared Leto, who sparked a lot of online chatter with his portrayal of the Joker in 2016's Suicide Squad, will play the title character.
---
AUGUST
Bill & Ted Face the Music (2020)
Directed by: Dean Parisot
Starring: Keanu Reeves, Alex Winter, Samara Weaving, Jillian Bell, Kristen Schaal, Anthony Carrigan
Opening on: August 21, 2020
Bill S. Preston, Esq. and Ted "Theodore" Logan have all grown up, but their time-travelling adventures aren't over yet. In this decades-later sequel, the goofy duo are visited by someone from the future who tells them they must create a song to save the world. Will the Wyld Stallyns be up to the task? Of course, they will.
---
The Hitman's Wife's Bodyguard (2020)
Directed by: Patrick Hughes
Starring: Ryan Reynolds, Samuel L. Jackson, Salma Hayek, Richard E. Grant, Morgan Freeman, Antonio Banderas, Frank Grillo
Opening on: August 28, 2020
2017's The Hitman's Bodyguard didn't exactly wow the critics, but it was a moderate hit at the box office, so why not give it another go? As indicated by the title, it's Salma Hayek's Sonia who now needs rescuing, so Michael (Ryan Reynolds) and Darius (Samuel L. Jackson) team up again to save her.
---
SEPTEMBER
Monster Hunter (2020)
Directed by: Paul W.S. Anderson
Starring: Milla Jovovich, Meagan Good, Ron Perlman, Tony Jaa
Opening on: September 4, 2020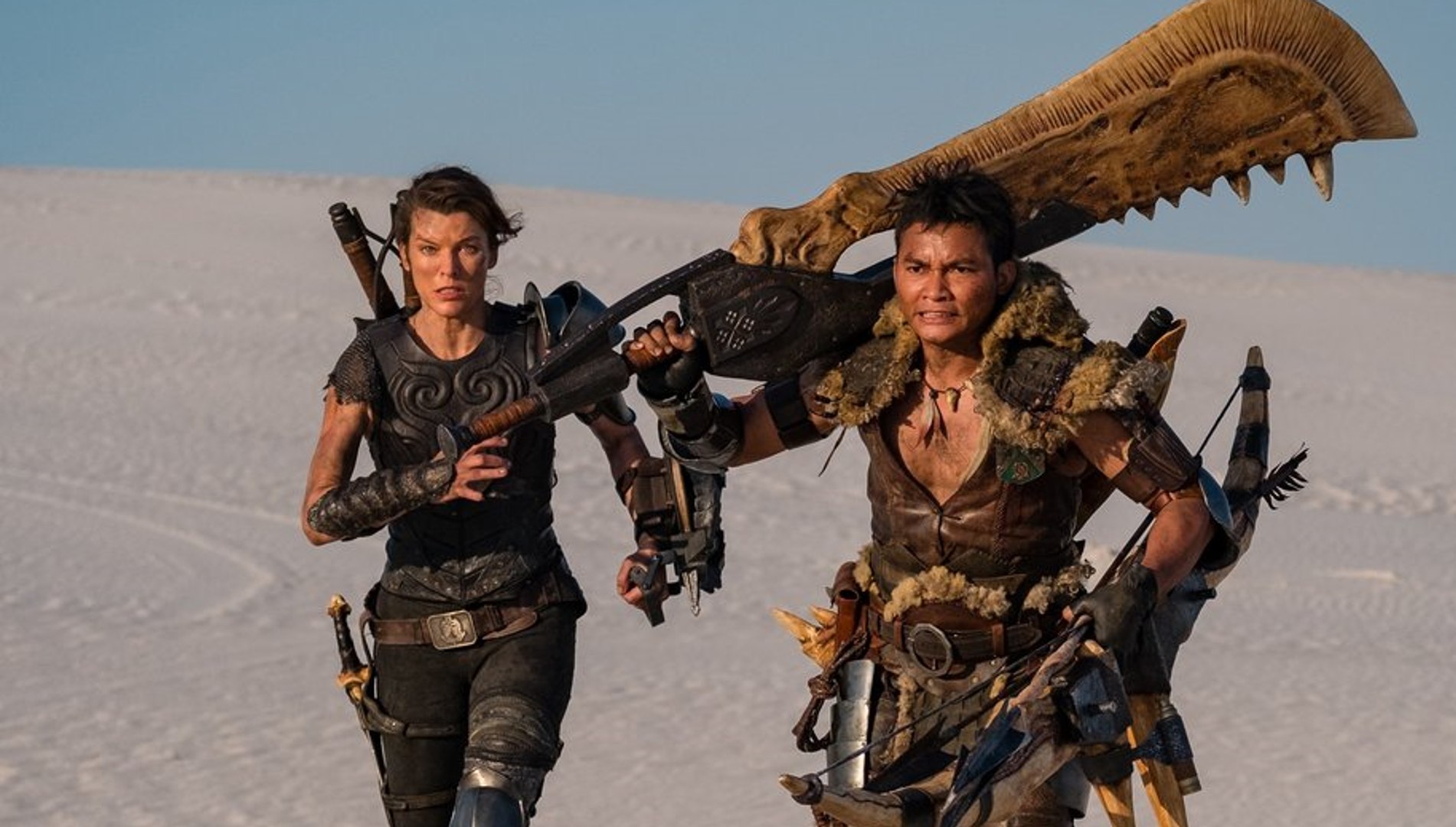 Based on Paul W.S. Anderson's track record, we're going to go ahead and guess this isn't going to be some revelation in the video game adaptation genre. Nevertheless, being that Monster Hunter is a hugely popular property that promises huge spectacle on the big screen, this movie may just have the same appeal that something like Godzilla: King of the Monsters has.
---
The King's Man (2020)
Directed by: Matthew Vaughn
Starring: Harris Dickinson, Ralph Fiennes, Aaron Taylor-Johnson, Gemma Arterton, Matthew Goode, Charles Dance, Daniel Brühl, Stanley Tucci, Djimon Hounsou
Opening on: September 18, 2020
While both a third instalment of the Kingsman franchise and a Statesman spinoff are still on the way, audiences will first get a taste of how the whole thing came to exist in the first place with this prequel, set in the early 1900s. Ralph Fiennes leads an all-star cast in an origin story that will show how a group of ex-soldiers formed the spy agency.
---
The Many Saints of Newark (2020)
Directed by: Alan Taylor
Starring: Michael Gandolfini, Vera Farmiga, Jon Bernthal, Billy Magnussen, Ray Liotta, Corey  Stoll, Alessandro Nivola
Opening on: September 25, 2020
Whether you feel that the end of The Sopranos — you know, that controversial fade to black — was fitting and poignant or anti-climactic and unsatisfying, you probably jumped at the news that a Sopranos movie was in the works. With the late James Gandolfini no longer around, however, the only way to go was a prequel, and who better to portray a young Tony Soprano than Gandolfini's son himself, Michael? Alan Taylor directs this look back at the early years of the iconic TV mobster, with Vera Farmiga, Jon Bernthal, and Ray Liotta in supporting roles.
---
Last Night in Soho (2020)
Directed by: Edgar Wright
Starring: Anya Taylor-Joy, Matt Smith, Thomasin McKenzie, Diana Rigg, Terence Stamp
Opening on: September 25, 2020
Any time Edgar Wright has a new movie coming out, it's something to look forward to. But throw in the fact that he's assembled a cast that includes up-and-coming young stars like Anya Taylor-Joy and Thomasin McKenzie, as well as legendary vets like Diana Rigg and Terence Stamp? And the fact that it's a horror film inspired by both Don't Look Now and Repulsion? Yes, please, and thank you.
---
The Trial of the Chicago 7
Directed by: Aaron Sorkin
Starring: Sacha Baron Cohen, Eddie Redmayne, Joseph Gordon-Levitt, Frank Langella, Mark Rylance, Jeremy Strong, Yahya Abdul-Mateen II, Michael Keaton
Opening on: September 25, 2020 (Limited)
Aaron Sorkin began writing the script for this historical drama back in 2007, but the project suffered several setbacks that delayed it for more than a decade. Now, with an impressive cast on board and Sorkin in the director's chair, we'll finally get his retelling of the controversial trial of seven men who were charged with conspiracy and inciting to riot during the anti-Vietnam War protests in the late 1960s.
---
OCTOBER
BIOS (2020)
Directed by: Miguel Sapochnik
Starring: Tom Hanks
Opening on: October 2, 2020
Tom Hanks is back, breaking our hearts again. Here he plays a sickly inventor — and the last human left on post-apocalyptic earth — who creates a robot to protect the life of his dog when he dies and keep them both company while he's alive. Will said robot be as lovable as, say, Wilson? Time will tell. Director Miguel Sapochnik boasts an epic resume, particularly in TV – if you need any convincing on this one, just know he directed Game of Thrones' "Battle of the Bastards" episode.
---
Death on the Nile (2020)
Directed by: Kenneth Branagh
Starring: Kenneth Branagh, Gal Gadot, Armie Hammer, Annette Bening, Rose Leslie, Letitia Wright
Opening on: October 9, 2020
Kenneth Branagh will return as detective Hercule Poirot following the surprise success of 2017's Murder on the Orient Express, which Branagh also directed. So far, big names like Gal Gadot, Armie Hammer, Annette Bening, Letitia Wright, and Rose Leslie have joined the whodunit.
---
The Witches (2020)
Directed by: Robert Zemeckis
Starring: Anne Hathaway, Octavia Spencer, Stanley Tucci
Opening on: October 9, 2020
Robert Zemeckis will direct this remake of Roald Dahl's The Witches, which was first brought to the big screen by director Nicolas Roeg in 1990. Zemeckis has some big shoes to fill: the original tale of an annual convention of the world's witches that is interrupted by an inquisitive young boy sits at 100% on the Tomatometer (and its opening sequence has been terrifying young kids for decades). Anne Hathaway, who will star as the Grand High Witch, has even bigger shoes to fill, though: Anjelica Huston's performance as the world's head which has made the character one of the most memorable kids' villains in cinema.
---
Snake Eyes (2020)
Directed by: Robert Schwentke
Starring: Henry Golding, Samara Weaving, Iko Uwais
Opening on: October 16, 2020
This date was originally reserved for another Hasbro property, namely Micronauts, but seeing as how development has stalled a bit on that one, we're getting a G.I. Joe spinoff instead. Specifically, we're getting an origin story (or maybe not?) for Snake Eyes, the mute ninja/commando previously portrayed by Ray Park in the live-action film franchise. Snake Eyes' past has always been shrouded in mystery, save for the fact that he was once close friends with enemy ninja Storm Shadow and the fact that an explosion not only severely disfigured his face but also fried his vocal cords. In other words, it makes sense that this will be a prequel, especially since they've hired Henry Golding to play the role.
---
NOVEMBER
Stillwater (2020)
Directed by: Tom McCarthy
Starring: Matt Damon, Abigail Breslin, Camille Cottin
Opening on: November 6, 2020
Matt Damon stars in this thriller about an Oklahoma oil-rig worker who travels to Marseille, France to unravel a mystery and clear his daughter's name when she is imprisoned for a crime she says she didn't commit. The film co-stars Abigail Breslin (likely as the daughter) and is directed and co-written by Tom McCarthy, who won a pair of Oscars for 2015's Spotlight, so there's considerable pedigree behind this project, and there's no reason not to be optimistic about it.
---
Deep Water
Directed by: Adrian Lyne
Starring: Ben Affleck, Ana de Armas, Tracy Letts
Opening on: November 13, 2020
Ben Affleck and Ana de Armas star in director Adrian Lyne's thriller based on the eponymous novel by Patricia Highsmith (Strangers on a Train, The Talented Mr Ripley, Carol), about a married couple at odds with each other who begin to play dangerous mind games with each other, eventually leading to murder.
---
Happiest Season (2020)
Directed by: Clea DuVall
Starring: Kristen Stewart, Mackenzie Davis, Mary Steenburgen, Victor Garber, Alison Brie, Aubrey Plaza, Dan Levy
Opening on: November 20, 2020
Kristen Stewart and Mackenzie Davis star in this holiday rom-com about a woman who plans to propose to her girlfriend at her family's holiday party, only to discover she hasn't come out to her conservative parents. This is actress-writer-director Clea DuVall's sophomore feature, which she co-wrote with Mary Holland, and it should be out just in time for Thanksgiving.
---
DECEMBER
Dune (2020)
Directed by: Denis Villeneuve
Starring: Timothée Chalamet, Josh Brolin, Rebecca Ferguson, Oscar Isaac, Javier Bardem, Jason Momoa, Dave Bautista, Zendaya
Opening on: December 18, 2020
Acclaimed director Denis Villeneuve takes on the massive challenge of re-adapting Frank Herbert's sprawling sci-fi epic more than 30 years after David Lynch attempted the same and, according to many fans, fell short. At the very least, Villeneuve has assembled an impressive cast (just look at those names!) so it's now up to him and his co-writers to fashion an engaging script from the daunting source material.
---
Uncharted (2020)
Directed by: Travis Knight
Starring: Tom Holland, Mark Wahlberg (in talks)
Opening on: December 18, 2020
This Indiana Jones-styled action-adventure film, based on the popular video game series of the same name, has been floating around in development for more than a decade, but it wasn't until June of 2019 that we got some solid forward movement on it. Tom Holland was confirmed to star in the film, and it's scheduled to go into production in early 2020. In September of 2019, Travis Knight (Kubo and the Two Strings, Bumblebee) signed on as director, and in November, we learned Mark Wahlberg – who was at one point in talks to play Drake – was in final talks to co-star as Victor "Sully" Sullivan.
---
West Side Story (2020)
Directed by: Steven Spielberg
Starring: Rita Moreno, Ansel Elgort, Rachel Zegler
Opening on: December 18, 2020
Steven Spielberg's new adaptation of the famous Broadway musical of the same name, which is itself an alternative take on Shakespeare's Romeo and Juliet, is finally seeing the light of day in late 2020. Ansel Elgort and Rachel Zegler star in the as Tony and Maria, two teens in 1950s New York City who belong to rival gangs but fall in love with each other and must deal with the consequences.
---
Coming 2 America (2020)
Directed by: Craig Brewer
Starring: Eddie Murphy, Arsenio Hall, John Amos, James Earl Jones, Garcelle Beauvais, Wesley Snipes
Opening on: December 18, 2020
After over three decades, it looks like Prince Akeem — ahem, King Akeem and Semmi are returning Stateside from there homeland of Zamunda. Much of the original cast are returning, including James Earl Jones as King Jaffe Joffer and John Amos as Cleo McDowell, as Akeem learns that he has a long-lost son he never knew about who might be the heir to the throne.